Venmo is a peer-to-peer payment app owned by PayPal. Venmo account holders can transfer funds to others via a mobile phone app, both the sender and receiver have to live in the U.S.A.
Users can create an account via a mobile app or website and provide basic information and bank account information.
One must have a valid email address and an American mobile phone number to use Venmo.
Recipients of transactions can be found via a phone number, Venmo username, or email.
Users have a Venmo balance that is used for their transactions. They can link their bank accounts, debit cards, or credit cards, to their Venmo account.
users can also order a Venmo MasterCard and pay through it.
Paying with a bank account or debit card is free, but payments via credit card have a 3% fee for each transaction.
When users first create an account, total transactions cannot exceed $299.99 until their identity is verified.
After their identity has been verified, users can send up to $2,999.99 in each seven day period.
Venmo has a physical debit card available for users, It can be used anywhere that accepts MasterCard.
Venmo includes social networking interaction; it was created so friends could quickly split bills, whether that is for movies, dinner, rent, tickets, etc.
When a user makes a transaction, the transaction details stripped of the payment amount are shared on the user's news feed and to the user's network of friends.
Venmo includes three social feeds: a public feed, a friends feed, and a private feed.
Features of the Venmo app
Venmo is the fast, safe, social way to pay and get paid.
you can send and receive money, users earn up to 3% cash back on their eligible top spend category.
users can Shop with the Venmo Debit Card, Create a business profile for your side gig, small business, or anything in between, all under your same Venmo account.
Stand out on the feed, connect with customers, and get paid with ease. Plus, use your unique business QR code for safe in-person payments.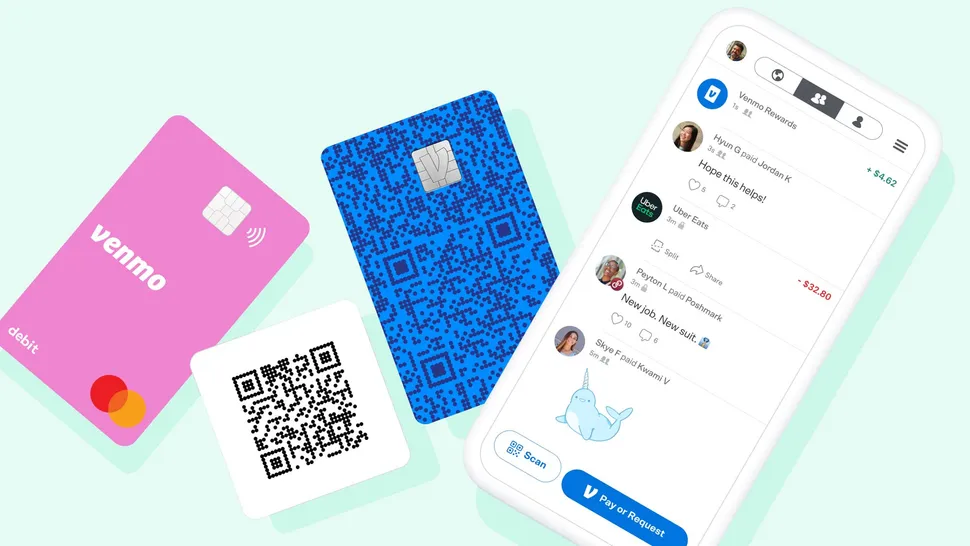 Use your Venmo QR code to pay touch-free at stores like CVS. No shared pens or keypads; no digging for your wallet just scan your phone to pay.
you can pay in apps and online with Venmo on some of your favorite apps, like Uber Eats, StockX, Grubhub, and Zola.
Get your Venmo money in the bank within minutes using Instant Transfer.
How to use Venmo
To use Venmo, you must first set up an account, which you can do by downloading the Venmo mobile app available for iOS and Android or at venmo.com. at the top right corner of the page click on get a Venmo.
you can use your facebook account to open Venmo or just the usual name, address, and phone info.
you will be asked to enter your bank account information. users must link a bank account to their Venmo account in order to use Venmo.
Note: Venmo is only available in the United States and only compatible with U.S.-based banks.
Once you are signed up, it's fast and easy to pay someone or request money from someone Using the app.
To ask for or send money, users simply tap on the "Pay or Request button in the Venmo app and put in their friend's username, phone number, or email in the top box.
If the friend is nearby, they can also scan a QR code from the app.
they can either request money from them, or send them money. After typing a memo indicating what the payment was for, the transaction is complete.
you can't pay or request money through the website.
Money sent in Venmo comes from one of three sources: the user's Venmo balance, a debit or credit card, or their bank account.
Venmo users can even request that their paycheck, or a portion of it, be directly deposited to Venmo, to always keep a balance in the app.
Users can also request a Venmo debit card. In addition to spending anywhere Mastercard is accepted, the card can be used to withdraw money from a user's Venmo balance.
Withdrawals can be made from ATMs displaying the Mastercard, PULSE, or Cirrus logos.
There are also limitations to using the Venmo debit card to access cash. If you decide to get cash from an ATM, the withdrawal limit is capped at the balance in your Venmo account, with a hard limit of $400 per day.  
How to sign up for a Venmo account
this step are for Venmo user who wants to know the steps for signing up for just a personal account. 
How to Sign Up for a Venmo Business Profile
the process below are for users who already have a Personal Venmo account
before you create a Venmo business account you must be eligible, If you're eligible for a business profile, you'll see the option to create one within the Venmo app.
Tap your photo in the top-left corner or tap the menu button at the top of the app and open Settings.
When you see the option to Create Business Profile, tap it to get started.  
Once your business profile is set up, you can toggle between it and your personal account by tapping your photo in the top-left corner of the app.
You'll use your existing login info to log into your Venmo account to access either profile.
If you're new to Venmo and you want to create a Businness account follow these steps below
In order to create a business profile, you'll be required to sign up for a personal Venmo account as well. Both accounts can be created during the same signup process.  
Download the mobile app
Choose the Business option 
Click on the Sign-up button 
On the next screen, choose Get Started
Type in your name, email address and create a very strong password 
Tap on the Agree button and enter your mobile phone number before tapping Send Code 
You should receive a four-digit code, which can be entered before selecting Submit Code
once the verification process is successful, your business profile is now created.
If you are successful in your phone verification, you'll be presented with a series of screens that will ask for details about your business, including: 
Whether or not your business uses an EIN
Your business display and username, as well as an opportunity to fill in a short description and your business category 
The address you use for your business, his will be made private
Optional public business information including customer-facing business address, phone number, and social media.
thanks for Reading.